What To Include When Writing Your Parenting Plan.
how to write a parenting plan for court.
A parenting plan is a written document that outlines how parents will raise their child after divorce. You may have heard of legal terms such as "parenting time" and "parental responsibilities" used to refer to these arrangements. A parenting plan doesn't have to use legal terms.
If you and your spouse are going through divorce proceedings and have children, then one of the most important things to do right now is to Write A Parenting Plan.
It is best to hire a lawyer who has the education and experience in writing a parenting plan. This plan will lay out how you and your spouse will deal with childcare issues. A written-out plan that you both agree on will avoid a lot of potential conflicts further down the road, and it will give your children greater stability and consistency. Keep in mind you will need to amend your parenting plan as the child gets older.
Parenting plan templates are available online. We suggest you schedule a consultation with your lawyer first. The advice and consul of a great family law attorney will help you avoid making mistakes. We understand with little experience it is easy to miss what you don't know. We sympathize but the courts may not and it could potentially create outcomes you won't be satisfied with.
What To Include In A Parenting Plan.
Parenting Time and Parental Responsibilities
How disagreements will be resolved
Legal Custody
Physical Custody
Child Visitation Schedule
Parenting Plan Calendars
Holiday visitation
Childcare providers
School schedules
Medical decisions
Health insurance
Communication
Child support payments and schedule
Parenting Time and Parental Responsibilities.
First thing to do is to figure out who is the primary provider and when the other parent gets to visit the child. In Colorado the common term Child Custody has been replaced with Parenting Time and Parental Responsibilities.
Parenting Time is defined as "the amount of time each parent spends with their children when parents separate."
Parental Responsibility is defined as "a person who has the right to make decisions about their child(ren)'s care and upbringing.
You'll have to work out if just one of you will be the children's primary caregiver, or if both of you will share in the duties. You also need to decide if one of you will get legal custody.
When you have decided the parental responsibilities next you will need to figure out parenting time or child visitation schedule.
Learn more about Parenting time and Parental Responsibilities 
Child Visitation Schedule.
There is no law that makes equal parenting the default. That said Colorado is one of the most favorable for fathers rights. The most common parenting time schedule is 50/50.
Parents are choosing to more collaborative after divorce. They are often choosing to co-parent instead of having a schedule that makes one a parent and the other a visitor.
If you have a shared custody agreement, then you need a visitation schedule. Figure out which days, weeks, or months the children will spend with each parent. Make your agreement with some wiggle room for both of you, to accommodate unexpected developments.
What is the best schedule for 50/50 custody?
50/50 schedules can benefit a child because the child spends time living with both parents. This allows the child to build closer relationships with both parents and the child feels loved and cared for by both parents.
The calendars below are some of the options you have available for parenting time but not all of them.
The calendar examples are not your only options but are here to show you some ideas of joint parenting time schedules.
Parenting Plan Calendars.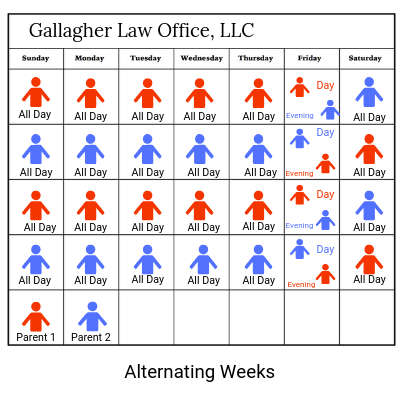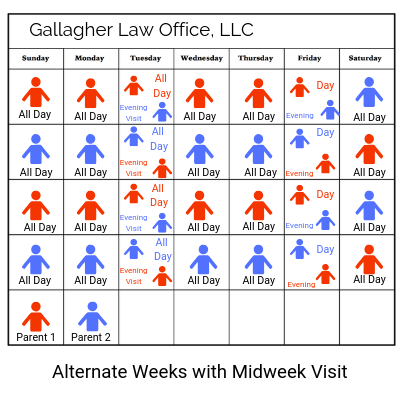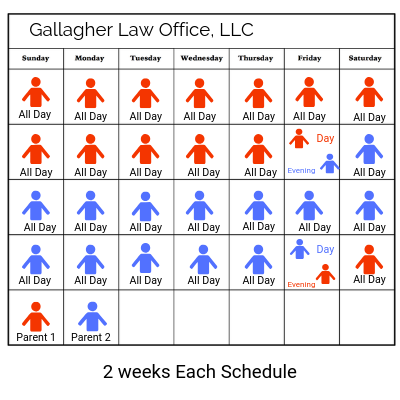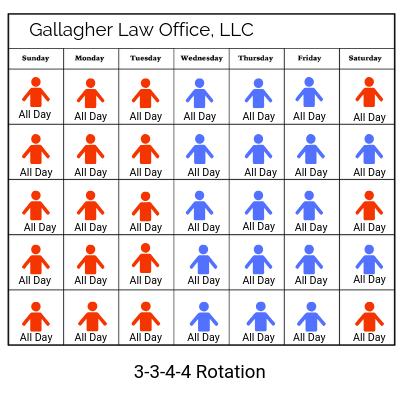 Holidays and Other Special Occasions.
You also need to decide on who gets the children for which holidays and other special occasions. Make sure you take into account graduations and birthdays. You could change the holidays every year, or stick to the same holidays always spent with the same parent.
Finding adequate childcare is difficult for a single parent. Before there is a problem, you both should agree on which childcare providers you both trust.
Will your children go to daycare?
Will they go to private or public schools?
Who is responsible for your children's college savings?
How much money should each parent contribute to them?
If the child will play sports what will the arrangements be?
You and your spouse should answer these questions no matter how young your children are.
You should both also discuss your childrens' use of prescription medications, their needs for mental health care, if any, and even issues like exercise and dieting.
You should also decide whose health insurance will cover the children. You also need to write out an agreement for how you are going to share insurance premiums and copayments.
A parenting plan may need to include an agreement on how communication between you and your spouse and/or between each of you and your children is to be carried out. If one of you has restricted visitation rights, or requires supervision during visits, then communication might need to be limited.
Writing a Parenting Plan that you both agree on is one of the most important elements of the divorce process. If you need help, contact a parenting time and parental responsibilities attorney Cory Gallagher for advice or look at sample custody agreements online. Divorce can be painful, and this can make communication with your spouse difficult, but if you take the time to work out a good agreement now, you will save yourselves and your children a lot of trouble later on.
Modifying A Parenting Plan.
When there has been a significant change in a parent(s) life or child's life  you might want to modify a Parenting Plan.
A significant change could be:
Parent is moving.
Parent's job change or work schedule change.
Parent has died.
The current plan is not being followed.
The child is in danger or lives in a dangerous environment.
To modify a Parenting Plan you must:
File a child custody modification or a petition to change the custody order.

 Attend a custody hearing.

Present your case to the judge.
If you think changing an existing parenting plan is crucial, you must file a petition for modifying it with the family court. You must then serve your co-parent with the petition and a notice of a court hearing. The court will determine if a change is warranted. Verbal changes to a parenting plan are not lawful.
You should have documents that explain why you believe the change is necessary and how they benefit the child.
Documents can include:
A custody journal with notes including what has occurred and when.
A report that shows if the other parent is missing or late when it comes to parenting time.
Letters from the child if they are older asking for a modification.
Letters from the Doctor.
Changes in School and or activities schedule.
Fixing Bad Child Visitation Agreements.
What seems like a workable visitation schedule may become a burden in the future. If the plan leaves out situations that occur parents can become confused of who's responsible.
If your child becomes sick at school and the parenting plan does not cover that scenario arguments can occur.
there are many possible situations that can create arguments especially if they are not covered by the parenting plan.
A few possible examples:
A parent starts dating and leverages grandparents for babysitting or hires a babysitter during their own parenting time.
A parent lets a significant other move in or moves in with a partner or get remarried.
A parent buys a new phone, computer, automobile, etc. without consenting with the other parent.
Changing the child's routine dramatically with consenting the other parent.
There are many other changes that can make a parent consider modifying a parenting plan.
Cory Gallagher has the expertise and experience that can help guide you through a new parenting plan step by step.
Can I write my own parenting plan?
You can write your own parenting plan by yourself or with the other parent or you can work with an attorney and have them write it.
We suggest you work with an experienced attorney who knows the law. having an attorney like Cory Gallagher who knows what needs to be included is extremely helpful. Forgetting or making a mistake that gives the other parent more leverage could cause major problems for your future.
The written Parenting Plan must contain provisions for the allocation of parental responsibilities including decision-making and parenting time.
This page gives you information to write a parenting plan but again experience really is important when it comes to major decisions such as custody.
Is a parenting plan legally binding?
Yes, but a judge must approve any plan you create before it becomes legally binding.
How do you negotiate a parenting plan?
Be thorough in reading your parenting plan. Make sure to read the entire plan and understand it fully.
Make your plan very specific and don't forget all the details.
Neglecting to define dates for medical and dental appointments, holidays, child support, day care expenses, extracurricular activities, and many other details will only leave room for additional Court dates.
Working With Denver family law attorney Cory Gallagher.
Having a Parenting Plan can definitely save you a lot of time, money, and stress during a divorce. However, it's not always easy for divorcing parents to communicate with each other and come to an agreement. That's where Cory Gallagher makes a big difference with years of experience obtaining agreements even in the most difficult of separations.